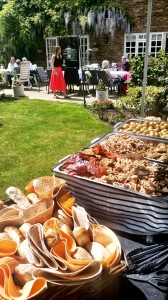 Hog Roast Birkenhead offers a professional and friendly service, as well as gorgeous food that you and your guests simply won't get enough of. Whether you choose one of our amazing hog or spit roasts or a different kind of menu for your party or event, our food will leave a great taste in your mouth and our service and visuals will leave a long-lasting impression that will be hard to forget. While being hog and spit roast pros, we also have plenty of other options available too if you need additional food or if you prefer alternative dishes. If you're planning a big, swanky corporate event or a posh wedding and you need several courses, we can help you to create the menu of your dreams, with meat, fish and veggie options.
Your Party, Your Food, Your Choice
With so many menus to choose from with Hog Roast Birkenhead, you'll be spoiled for choice but that's what we want – for it to be all your own choice. We use only fresh, quality ingredients, locally-sourced where possible, and are passionate about ensuring that everyone is catered for.
If you have guests with additional dietary requirements, such as vegan or vegetarian, we have lots of dishes to choose from, including a homemade veggie burger, stuffed peppers or mushrooms or Spanish quiche. If any of your guests are gluten-free, they can still enjoy our hog roast rolls, just with special bread rolls. Whatever your needs, Hog Roast Birkenhead will satisfy everyone's hunger.
If you're holding an informal party at home for a birthday or christening, we can cook you a barbecue, a meal of meat, potatoes and vegetables or make our infamous pigs in buns. No matter the location, number of guests or budget, we have plenty of choices to help make your party a great success.
The Best Hog Roasts In Birkenhead
When you host a special occasion, you're creating memories, and what better memories to give your guests than with a stunning centrepiece hog roast? The sight will thrill and surprise your guests, the smells will tantalise their taste buds and make them lick their lips in anticipation and the taste explosion will stay with them for a long time to come.
Hog Roast Birkenhead can help you to create better memories, so give us a call, hear more about us and tell us your needs today!